Is your marketing keeping you from reaching your goals?
The outlook for the US HVAC industry is both promising and prickly. With positive and negative forces abounding internally and externally, those who know how to navigate the current landscape will see profits skyrocket—and those who don't will get left behind.
Now is the moment to choose: keep throwing money at the same dated marketing efforts or recalibrate and see an unrivaled ROI.
Today, HVAC service providers must contend with new technology, high standards, and oversaturation. HVAC marketing has also evolved. Gone are the days of the local HVAC business that thrives on word of mouth and friendly faces. 95% of consumers go straight to search engines to search for local services--especially when there's an emergency. In 2023, the HVAC company that targets and retargets is the HVAC company that wins. Any AC agency not investing in social media marketing is missing out on thousands in inbound leads.
Exclusive HVAC leads are the key to growth—and the key to consistent leads is positioning yourself where potential clients can see you and learn to trust you. Everyone is on social media; your kids, your grandmother, and your target audience. When we say you need a social media strategy, we don't mean you need to post a bunch of selfies with your best installs. Social media is an excellent way to harness the growth tool everybody wants: data.
The data collected from social media allows you to create geo-targeted advertisements based on demographics and psychographics.
What's better? Social media ads are more affordable than search engine ads. Isn't it time you stopped setting money on fire and started stretching your yearly marketing budget to be as effective as possible?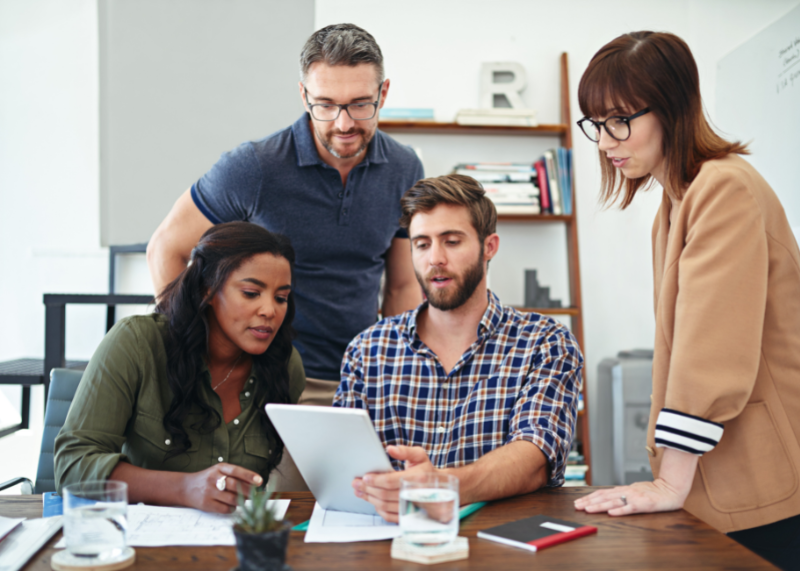 Do I Really Need HVAC Social Media Marketing?
The short answer: yes.
The long answer: with nearly 2.8 billion users on Facebook alone, social media is an uncontended powerhouse for digital marketing campaigns. However, running a multi-tentacled social media campaign can be intimidating for those who have relied on billboards and old-school ads.
The best advertisements meet your target audience at the right place, at the right time, and with the right message.
You wouldn't want to waste money having your ad appear to a teenager searching for the answers to their homework, would you? But when inexperienced marketers try to handle PPC themselves, misdirected ads are a common (and costly) mishap.
To leverage social media marketing to its full potential, you need an experienced HVAC PPC agency that can do the grunt work for you. This is where CMG comes in. We've been in the business long enough to know how to maximize your marketing dollars and get your social media ads in front of exclusive HVAC leads. We specialize in what works: pay-per-click advertising campaigns that serve compelling content to your target audience at the moment they need your services most.
We Maximize Your Marketing Dollars. Here's How.
When you choose CMG to spearhead your social media advertising campaigns, you can expect constant support from our team and a steady stream of qualified leads.
We Provide Fast Results
Not all HVAC PPC services are created equal. Done right, PPC management is your fast pass to increasing leads and driving more sales. Done poorly, a PPC manager who doesn't know what they're doing will waste your time and money. Trust CMG to create substantial traffic with minimal overhead.
We Offer an Unbeatable ROI
Exposure is everything. Traffic from PPC advertising generates 50% more conversions than organic advertising. What's better? Paid advertisements have a 200% return on investment.
We're an HVAC PPC Agency that Actually Cares
You won't meet another agency like CMG-one that actually cares about turning your clicks into commerce and keeping you in business. Staying in business is your top priority. Seeing your business succeed is ours. As you continue to grow and your marketing needs change, we are right there with you, ready to create adaptive strategies that flex the way you need them to.
We Give You Time to Focus on What Matters
We take the heavy and stressful task of social media marketing off of your shoulders so you can focus on what you do best: run a successful HVAC business. Don't waste time worrying about the nuances of social media advertising; CMG is poised and prepared to do the hard work for you.
Digital Marketing is Complicated. We Make it Easy.
Digital marketing is always changing. With new platforms and technology emerging overnight, it can be impossible for an untrained eye to know which strategies will pay off and which will not.
You need an agile and experienced ally to be your guide to the lucrative, yet confusing world of digital marketing.
At CMG, we have been weathering the ever-changing HVAC social media marketing landscape since Facebook was just an idea in Zuckerberg's brain. We know the best platforms to utilize, when to use them, and how much money to put in to see an unbeatable ROI.
Choose to Grow. Choose CMG.
We're here to help and we mean it.
CMG has an admirable and extensive history of spearheading and implementing social media advertising campaigns that take businesses from stagnant to flourishing. We offer our HVAC PPC services to industry giants and small independently owned companies alike. Though no HVAC business is the same, the result we offer is: increased inbound leads wrought through targeted marketing efforts.
When you hire CMG, you hire industry experts who aren't shy about sharing the latest PPC trends and tools. The leads you need to grow are out there. CMG helps you find and attract them.
How to Start
Hiring an HVAC PPC agency may boost your bottom line more than you expect. If you're stuck in 2013 relying on organic traffic or sending social media posts out at random that don't reach anyone, you're missing out on tens of thousands in new business. PPC management is crucial to your business increasing leads, getting better conversions, and driving more sales.
When you do decide it's time to put a real investment into PPC services, don't just trust anyone with your marketing dollars. Choosing CMG is an intelligent investment in your business. Not only does hiring our team cost significantly less than an in-house PPC manager, we maximize your return. By hiring a team of trained, experienced individuals, you cut costs on screw-ups and put money back in your pocket to invest.
Before you sign the bottom line, we'll leave you with some fast facts:
80+ years of combined local support and expertise

100+ digital experts monitoring your campaigns

Viewing a constant message across a variety of channels can improve purchase intent by 90%



Are you ready to grow?