Between shopping, cute cat videos, the inane, and the educational - social media reaches 82% of the world's Internet population, constituting the most significant portion of the average individual's Internet usage. Like it or not, social media is here to stay. It has become an integral part of our everyday lives and influences the way we interact with each other. As a result, brands must incorporate a social media strategy into their marketing approach to connect with their audience. A wealth of successful businesses are utilizing social media to benefit their brand. If you haven't already joined, you're missing out on opportunities to keep old clients compelled and attract new ones. But creating brand accounts on various social media platforms alone is not enough- you have to understand how to sell on social media effectively.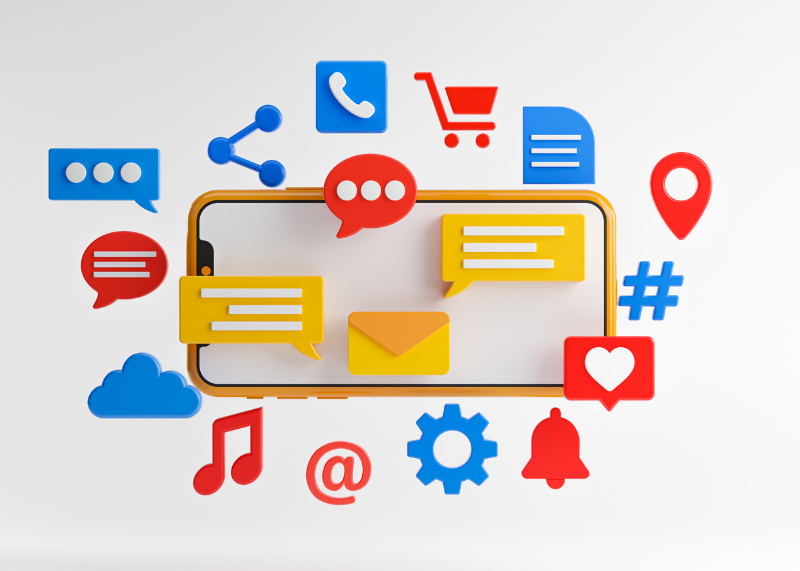 The New World of Social Media
The digital sphere is an ever-changing environment with lots to offer its users. Social media specifically has allowed us to broaden our connections and engage with people on a global scale. We no longer have to miss out on different cultures just because of geographical location. Audiences who were previously hard to reach can now be accessed instantly through the click of a button. In addition, social media platforms have rewritten how we connect with commerce and friends alike. Whether we are looking for people who share a niche hobby or resources to develop a skill we're interested in, social media makes it possible. Because of this, social media platforms have become an essential tool for many businesses looking to expand their reach and connect with customers online.

Social networks also powerfully influence the way consumers think and feel about brands. Done well: they drive brand awareness and loyalty. Done poorly: they can cause customers to lose trust. With social media's power of connectivity, brands with a robust social media marketing strategy have the opportunity to reach a broader target audience and appeal to the emotions and motivations of their current customers. Brands can use social media platforms to build a community of engaged followers who actively share content about their brand. These active followers help to drive organic conversations around products and services. Companies can also utilize these communities to understand their audience better and develop further insights on how to sell on social media successfully. In addition, a strong community of fans can generate buzz around your brand and skyrocket your success overnight.

How to Sell on Social Media
So, now you know that social media is an invaluable tool in your marketing arsenal. But how can you ensure you're utilizing the most effective tactics to reach your target audience and drive sales? Social media requires careful planning and effective execution to flourish, not flop. How to sell on social media effectively versus ineffectively requires you to have your fingers on the pulse of the constantly evolving social media marketing universe. For instance, there once was a time when you could share the same content across all your social media platforms. But this practice is incredibly outdated as we now know that each platform's audience responds to different appeals (some are humorous, some are logical, etc.), making a one-size-fits-all post ineffective. Instagram users enjoy seeing photos, whereas Twitter users like to consume information through 280 characters or less; therefore, the likelihood that a lengthy post initially intended for Facebook but shared on Twitter and Instagram would capture much attention is low. Instead, posts needed to be customized for their intended platform and audience for max optimization. This involves analyzing what your audience on each network likes and then designing your posts accordingly.

In addition to keeping up with the latest social media marketing strategies, building credibility amongst consumers is critical to selling successfully on social media. For example, many brands will utilize influencer marketing as businesses can gain credibility through the influencer's endorsement. However, to be effective, you must approach influencer marketing strategically with a deep understanding of the relationship that the influencer has with their audiences. Businesses may see an influencer with a large following and assume that the larger the following, the better the results. Be warned: this is not always the case. Some influencers have a large following, but the content they produce may be poor and not align with your business's values. A collaboration with the wrong influencer has the potential to harm your brand's reputation. For instance, take TV personality Scott Disick, who has over 27 million followers on Instagram. His endorsement for the brand Bootea went horribly wrong when he copied and pasted the marketing team's instructions to post "at 4 pm est" along with the intended caption for his sponsored post. While the mistake was eventually caught and edited out, Disick had done the damage. The post and collaboration felt disingenuous to fans and showcased how to sell on social media ineffectively as it hurt the brand's credibility. Rather than working with celebrities who often churn sponsored posts out and could care less about proofreading before posting, businesses can partner with micro-influencers who have a smaller following but have built that loyal following through consistently providing valuable content. Their authenticity and personal connection with their community can help grow your business. All in all, businesses must offer quality content to build trust and loyalty with consumers. Otherwise, a company may waste significant time and resources on an ineffective campaign.
You Need a Team
A powerful social media campaign requires strategy and a well-thought-out plan. The language of social media platforms can change overnight, and this rapid evolution will only continue for years to come. Keeping up with the constant changes of these platforms becomes a major challenge for marketers. In recent years, for example, Instagram has added features such as shoppable tags, Instagram Stories, and Instagram Live, which allow businesses to connect to their audience in a unique way. Also, many of the biggest social networks, such as Facebook and Instagram, seem to evolve their algorithms with no rhyme or reason, making it difficult for brands to get their content in front of their audiences. Without addressing these changes, brands risk having their content buried in the newsfeed of their followers and, as a result, miss out on the opportunity to engage with their audience. For this reason, brands need to tune into the latest changes and additional features made by different social platforms.
But, let's be honest: what business owner has the time? To sell on social media, you need a team with the analytical mind to demystify social media algorithms and the creative mind to pull off impactful campaigns.
An effective social media campaign requires a substantial investment in time and resources. Even with the right strategy in place, it can be challenging to execute consistently over an extended period. That's where CMG comes in - we don't mean to brag, but we've been around since Facebook was FaceMash. We have decades of experience helping businesses develop and roll out effective social media marketing campaigns that drive results. Our team has the tools and expertise to help you identify and implement a winning social media strategy for your brand. Let us be your advocate in the rapidly changing social media landscape so you can focus on building your business. We can take your brand's social media presence to the next level. CMG knows how to sell on social media through our proven process to create engaged communities and can develop content for social posts that make an impact. We'll make sure we get your message in front of the right audience at the right time.
So what do you say? Give us a try! Contact us now for a free strategy session and let us show you how we can put our expertise to work for you.