Let's face it: The pest control industry is prohibitively crowded, and it takes special marketing tactics to stand out from the swarm of pesky competitors. As you well know, the industry as a whole is a different kind of critter, and the digital marketing tactics that work best for lead generation are similarly unique.
Preventive maintenance occurs, but most pest control demand is unforeseen. It happens immediately and without much warning, so capturing potential customers' attention with memorable campaigns or advertising efforts is vital to all-important name recognition and brand awareness. The best marketing plans for pest control companies feature a multipronged approach that utilizes several channels, platforms, and dare we say, gimmicks.
Are you ready to take your pest control marketing plan to the next level?

Laying the Bait With Pest Control Advertising
Several tactics are proven to work exceptionally well for the pest control industry. These marketing must-haves will help you generate quality leads and convert them into customers.

1. Interactive website
Today's customers expect you to have an online presence, plain and simple. Providers that don't are risking their livelihoods. If someone can't find information about your pest control brand and contact you easily, you're on borrowed time. The best solution is a dynamic website that showcases your capabilities, features glowing reviews, houses compelling content, and offers interested customers ample access to get in touch and schedule appointments.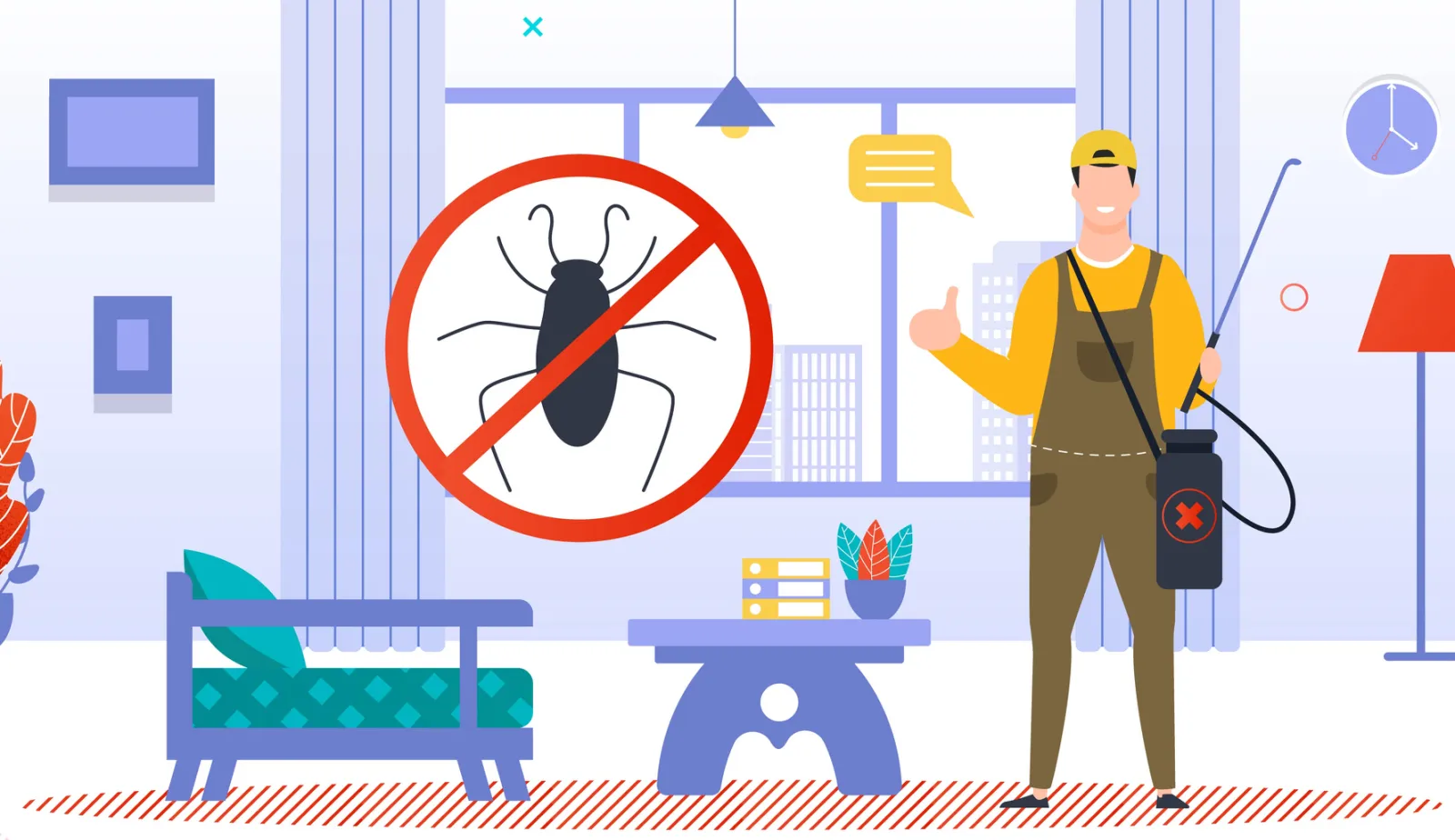 First impressions matter: Visitors make a decision about your company based on your website within 50 milliseconds! That's not much time. Thankfully, there's virtually no limit to the things you can accomplish with a great website. Just make sure it's mobile-friendly and doesn't get stagnant; work to keep a steady cadence of newly updated material that's equal parts informative and interesting when you create your pest control marketing plan.
2. SEO optimization
In order for your online presence to matter, you must be seen. This requires high rankings, which are fueled in large part by search engine optimization. When potential customers need to locate a local pest control brand, what they find on the first page of a search result holds significant weight. Case in point: The click-through rate for the first Google search result sits at almost 30%. If you're buried on subsequent pages, the chances of getting noticed (and ultimately hired) decrease dramatically. In fact, the tenth listing in a search result has a click-through rate of only 2.5%.
Thorough SEO needs to be a serious consideration for your pest control marketing plan. You could have the coolest, most informative site in the biz, but if no one bothers to visit, you'll generate zero buzz — and probably very few (if any) leads. Make pest control SEO services a top priority.
3. Unique and compelling video marketing
At first blush, it may seem odd to use video marketing to boost your pest control business. However, video allows you to showcase your expertise in a unique, personal way. Being transparent by showing how you've helped past clients and how your process works via video helps build trust and elicit emotion in your audience. From outstream, OTT, and pre-roll to YouTube videos and ads, there are many different ways to showcase your business in a new light and generate more leads.
4. Digital audio
The digital landscape is crowded. One way to stand out is to market on a medium that's often overlooked: audio advertising. More than 120 million Americans listen to audio on a daily basis — that's a vast audience pool. And considering that many people listen to audio either with headphones on or while they're driving, audiences will be less likely to ignore your ads in this medium.
Effective audio ads often include creative songs or jingles that stick in a listener's ear. Successful branding — and, by extension, pest control advertising — contains a simple, powerful message that's repeated over and over. Catchy jingles can accomplish this in a fun way that inspires potential customers to act, and it's a creative way to differentiate yourself from local competitors.
5. Reputation management
Almost 90% of consumers read online reviews before making purchasing decisions. Clearly, it's critical that your pest control business has online customer reviews — and positive ones at that. If a customer is looking for a pest exterminator near them, they'll likely pick the one with the best reviews because it shows that the company is reliable and effective. To generate a positive online reputation, ask satisfied customers to leave reviews and be sure to respond to both positive and negative reviews as soon as possible.
Looking to improve your pest control marketing plan but not sure know how to get moving? Don't bug out! Contact the professionals at CMG Local Solutions today!