A struggling car dealership with a lacking customer base and ineffective PPC automotive industry techniques came to CMG with one goal in mind - to promote their new and used inventory while highlighting their trade-in services. The dealership needed a fresh approach for reaching new clientele, and fast.
Their inventory was adequate, test-rides were regular, and customers seemed to show some interest in purchasing a vehicle, but sales reps were struggling to close on deals. So what was the problem? Well, that's exactly what CMG set out to discover.
After careful and detailed investigation, CMG discovered the issue was not how the dealership was reaching customers, but who they were reaching. Over 90% of customers the dealership interacted with were not in the market for a new vehicle and did not intend to trade in their existing vehicle in the foreseeable future. The answer then became clear and an effective, holistic strategy began to take shape.
Through industry-led tools and techniques, CMG began targeting customers in the auto industry with a serious interest in buying, selling, and trading vehicles. Through their marketing efforts, CMG brought in new clients and helped close more sales for the dealership, boosting their revenue and bolstering their customer base.
By combining our expertise with the owner's knowledge base, we helped this business gain 82 new customers that closed on a sale.
Remember, 90% of the buyer's journey begins before the customer steps foot on the lot, so it's important to start the marketing process early. Due to the makeup of the auto industry right now, this is the best time to start.
Our Client Reaped the Benefits They Wanted and Deserved
CMG takes every client and their needs as seriously as the last, and when the dealership came to us looking for help promoting inventory and trade ins, we got to work. The dealership had a strong approach to marketing, it was just directed at the wrong audience. Using this as our foundation, building a winning marketing strategy became a sinch. With the content of the marketing already meeting industry standards, we focused our efforts on targeting those clients with a serious interest in their business. Integral to this strategy was discovering, when, how, and where they consumed their information as well as the type of ads they respond to and how many interactions it takes to elicit a real response.
CMG has a reputation for building effective, successful campaigns, and the case was no different with this dealership. Sticking strictly to these research guidelines, CMG generated results for the dealership in less than two weeks. Through a multi-channel marketing strategy focusing on PPC automotive industry necessities, dealership exposure and meaningful interactions increased drastically.
CMG stands apart from other companies when it comes to your success. We don't hand you a cookie-cutter campaign that may or may not meet your business's goals. We dedicate a team of experts fully committed to seeing you succeed - in whatever way you measure that - and don't rest until we achieve results that don't just meet, but exceed your goals.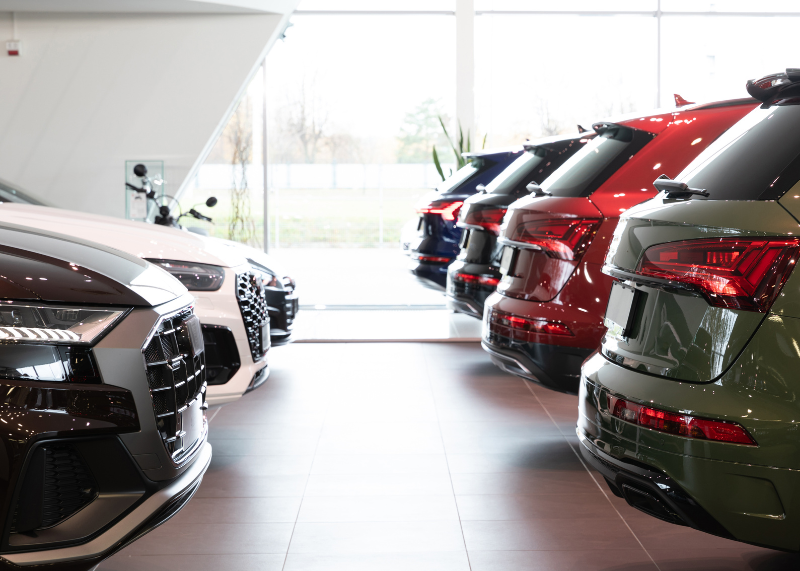 CMG Takes the Wheel in Developing an Effective Campaign
Upon getting to the root of where the issues with this business's campaign strategy lay, CMG wasted no time developing a holistic plan aimed at bridging the gaps and attracting new customers. Through the combination of email, PPC, and OTT, CMG created an Exact Match marketing strategy that produced significant results and attracted new clients to the dealership.
The campaign started out with emails, a simple but effective way of engaging with an incredibly large and untapped pool of customers. CMG broadcasted their first email to a population of 188,571 personnel comprised of auto intenders and those in the market for new and used automobiles. 21% of that population viewed the email. 10 days later, CMG sent a redrop email, this time to the 30,000 personnel that viewed the first email, and had a view rate of 20%. By targeting audiences in the market for vehicles, CMG was able to reach a large population poised to not just look at the email, but actually visit the dealership.
Integral to this strategy was reaching customers indirectly, through PPC automotive industry ads and OTT. Through this multi-channel strategy, CMG ran ads both online and via streaming TV to attract potential customers and keep the dealership relevant in their prospects' minds. These advertisements ran for 2-3 weeks and led to a significant increase in the dealership's customer base.
CMG's Multi-Channel Strategy Puts the Pedal to the Metal on Achieving Results
The results reaped from this campaign far exceeded the owner's expectations. In just three weeks, CMG generated over 45,000 meaningful interactions and over 6,000 new website visits.
Prior to CMG's intervention, the client was working too hard and achieving too little. They had the right content and knew what they were selling, all they needed was a new way to market. Our fresh approach identified the client's shortfalls in his automotive PPC campaign and set out to fill the holes in his strategy. The research our expert analysts conducted discovered exactly who we needed to target how and where. We only had to drop and redrop 2 emails to see these results. When you choose CMG, you choose success.
Don't Allow Your Business to End Up in the Chop Shop. Choose CMG for Your Automotive PPC Needs.
This dealership's success story is not unique and the good news is you can enjoy the same results! Together with our marketing expertise and your industry-specific knowledge, we can partner to create a powerful, lasting campaign that is sure to generate results. CMG prides itself on producing tangible metrics and that's why flexibility and adaptability are crucial to our business, ensuring we never overlook a potential opportunity for improved outcomes.
With CMG enmeshed with your organic team, you can expect to:
Improve your status on search engines and social media

Attract and grow your ideal customer base

Work closely with specialists to identify strategies to help your dealership exceed its goals
The experts at CMG have a broad and deep knowledge base in several industries while also understanding how to meaningfully interact with customers at the local level. Working hand in hand with you, the business owner who has spent countless hours perfecting your craft and learning your industry, CMG leverages your knowledge base in order to spearhead a marketing strategy that highlights your service and reaches the right audience. We will draw on successful past performance techniques, craft new ones, and develop an automotive PPC campaign you're sure to be satisfied with. That's what sets us apart and what will undoubtedly help your business flourish.
All Roads Lead to Rome, But CMG Knows the Fastest Route
Effective marketing is a multi-faceted concept that is nearly impossible to do right on the first try. It may take the inexperienced one hundred or even a thousand attempts before finding something that works, dedicating countless hours along the way while doing so. Winning campaigns also take constant oversight as tools and techniques change as quickly as the seasons do. As a growing business, that is not something you have time for and your efforts are better spent focusing on the things you love. With CMG Local Solutions, you instantly get access to a team of experienced, knowledgeable professionals who are great at what they do. They've worked across every industry and know what it takes to help your business succeed. Just ask any of our thousands of clients. Put our expertise to work for you, today.