The marketing landscape for plumbers is shifting. Old methods like word of mouth, billboards, and sponsoring a local softball team are great, but they're no longer enough to keep you scaling. Many plumbers believe that since their business is offline, there's no need to search for leads online.
But the data doesn't lie- if you're spending money on marketing but still not seeing consistent inbound leads, you need to make a change.
When customers search for plumbing work, whether it's an emergency or a routine project, you want your business to be their first and last phone call. PPC for plumbing companies can make that ideal a reality. Through PPC marketing tactics, your business will start seeing the consistent inbound leads you need to scale to new heights.
Still not convinced? Consider the alternative: without receiving regular inbound leads, your company won't have a repeatable sales model required to keep your company's finances in the black. Don't take that risk. CMG provides PPC for plumbing companies and is here to help you grow.
What's PPC?
SEO, PPC, DOOH—digital marketing lingo can feel like an acronym attack for the untrained.
Allow us to break it down for you: Pay-per-click (PPC) is a type of online advertising in which you, the advertiser, pay a fee every time someone clicks on your ad.
So, how can PPC help your plumbing company?
For one, PPC is the leading strategy for reaching people who are actively searching for plumbing services online. When people search for keywords related to your business, your ad will appear in the search results. And because you only pay when someone clicks on your ad, you can be sure that you're only reaching potential customers who are interested in your services.
The main forms of PPC ads are found on search engines, social media, and display ads. Search engine ads appear as solutions to someone's search, social media ads are not searched and must grab the attention of your target audience in order to create a conversion action, and a display ad is just like a social media ad, but placed on other websites, videos, articles, and other types of media.
With PPC, you can target customers by location, demographics, and even interests. This ensures that your ad reaches the right people and that you're not wasting your time and money on ads that no one will see.
How PPC Maximizes Your Marketing Dollars
The plumbing industry remains highly competitive throughout the United States. No single plumbing company claims more than 5 percent of the total market share, and industry projections indicate that demand for plumbing services will continue to grow.
Today's consumers aren't starved for options. The second they notice something amiss with their pipes, they can reach for their smartphones and find dozens of viable plumbers in their area. A saturated market with low customer loyalty means that the plumbing company that builds the best brand awareness is the plumbing company that wins. And brand awareness starts by positioning yourself where your prospects prefer to get their information: the internet.
Plumbing companies with solid digital marketing strategies, social media engagement, and positive online reviews will do well but not thrive. You need a social media presence, good reviews, and PPC for plumbing companies to make the most of your marketing dollars.
Only 10 percent of millennials care whether they've used your service before when searching for a plumbing company. What matters most to them is if your business appears when they search for a plumbing company and appears credible.
The most effective and budget-friendly way to appear in searches is pay-per-click (PPC) advertising. A PPC strategy ensures businesses only pay when someone clicks on their ad.
PPC is the best digital marketing strategy to reach your target audience when they need you most. With PPC, you can specifically target people who are searching for plumbing-related keywords. Think about the likelihood of making a sale if your ad appears in front of someone needing emergency plumbing services because a winter storm just passed through their city and froze their pipes. When your ad is in front of the right people at the right time - sales will follow.
PPC also lowers your marketing spending while increasing your ROI. Since you only pay when someone clicks on your ad, you can control how much you spend based on your budget.
PPC is an unrivaled way to track your marketing results as well. With PPC, you can see how many people are clicking on your ad and visiting your website. This allows you to measure your return on investment (ROI) and adjust your campaign accordingly.
If you're desperate for more leads and looking for a cost-effective and meaningful way to market your plumbing company, look no further than PPC marketing with CMG.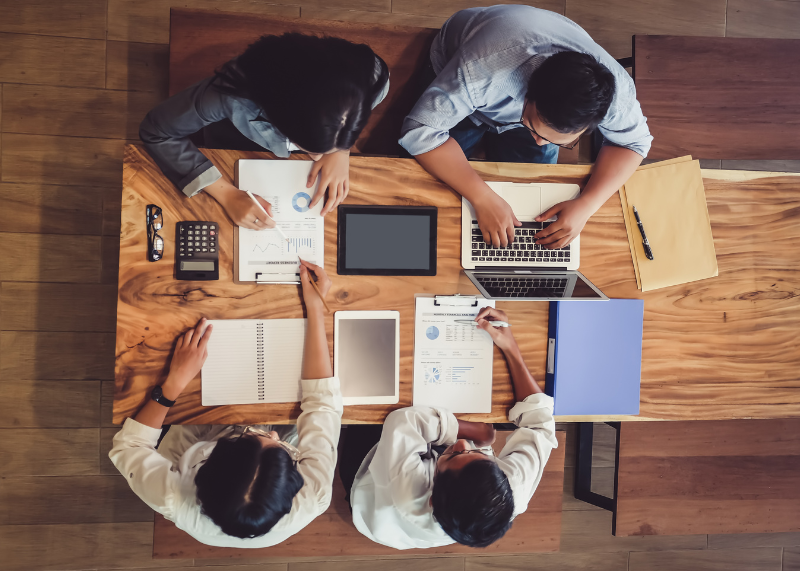 Our Plumbing PPC Marketing Agency Helps You Grow. Here's How.
Tapping into the power of paid advertising is a great way to grow your business, but it can be tough to do alone.
Business owners must handle PPC ads with care. Targeting the right audience, choosing the best keywords (search terms that people look for), and other elements make PPC ads highly effective, yet confusing.

Working with a plumber PPC agency will help you get the most out of your paid advertising campaigns. A good agency of experienced professionals will create effective campaigns, track your results, and optimize your campaigns for the best results. But an agency who only cares about profiting off you will charge a retainer to show confusing advertisements to the wrong audience.
When growth is the goal, you deserve a digital marketing partner, not a profiteer.
With ever-changing algorithms and new features being added all the time, it can be tough to keep up with paid advertising best practices. At CMG, we nimbly navigate all the latest changes and help you make the most of them. Your success is our top priority.
Why Choose CMG?
CMG is a local plumbing PPC marketing service that has a proven track record of creating powerful and lucrative pay-per-click campaigns. With decades of combined experience and hundreds and hundreds of happy, wonderful clients, we're ready to boost your plumbing company's profits through our customized solutions.
Not only do we deliver great results, we also ensure you're tuned into every turn, so you can focus on running your business.
We're more than an agency, we're your partner. If you're still searching for agencies that serve PPC for plumbing companies, the answer is CMG.

When You're Ready to Grow, We're Ready to Help You.
PPC for plumbing companies is tricky. CMG makes it easy.
Simply schedule a time to chat about your company's needs, your target audience, and your services, and we will brainstorm an intuitive advertising campaign that puts your plumbing services in front of your ideal audience at the right time, and the right place.
Your steady stream of inbound leads is just one conversation away. Are you ready to meet your ideal plumber PPC agency?