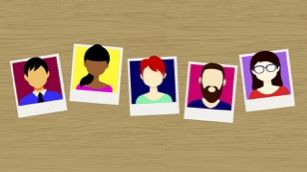 The era of third-party cookies is coming to an end. They're being phased out by Google, meaning that marketers will have to adjust their strategies to keep connecting with customers. In short, they'll need to start unlocking the benefits of first-party cookies.
What Is a First-Party Cookie?
First-party data collection is often used by companies that are well-known for their customer experience. It's what Amazon uses, for example, when it saves your products in the cart and logs your on-site activity to curate what you see when you arrive at the homepage next time. Essentially, when a shopper signs into an Amazon account, the browser saves a data file for that domain on the user's computer. This is a first-party cookie.

First-party cookies are created and stored by the websites a consumer visits, and they allow a site to remember user preferences (such as passwords or language) as well as more complex preferences and behavior, helping marketers predict what they'll enjoy next.
In contrast, third-party cookies infer data from distant domains and based on past behavior. Although they can be used to create an insightful user profile of interests and behavior patterns, they don't have the same impact on a customer's experience.
In a match-up of first-party versus third-party cookies, first-party cookie-tracking would win for accuracy and personalization. Because these cookies are gathered directly from the consumer, there's less room for misinterpretation.
The benefits of first-party cookies are that they can enhance a customer's experience on-site, encouraging longer dwell time, more conversions, and additional opportunities for marketers to learn more about their users and better segment and personalize their messaging through email efforts.
For those reasons — and the fact that third-party cookies are being phased out — 88% of marketers say they are prioritizing first-party data this year. So it's certainly in marketers' best interests to learn how to use first-party cookies for a greater impact.
Using First-Party Cookie-Tracking to Enhance the Customer Experience
As the way we track and connect with consumers changes, businesses need to ready themselves to take advantage of first-party cookies and the power of their own domains. Here are three strategies that will help you get more out of your data:

1. Incentivize opting in for your newsletter.
First-party cookies can fuel more personal and engaging communication, especially via email. Make it rewarding for people to opt in to receive your newsletter, and you can start generating the largest audience possible for your email marketing efforts. Try an immediate offer for new subscribers: When they sign up for the newsletter, they get a discount voucher or a free demo video, for example.
2. Use your customer relationship management platform to segment and personalize.
Your CRM is your best friend when it comes to using first-party cookies to better serve your customers. Say, for example, that you're a lawn service business. With email segmentation, you can send one message to industry experts, another to new homeowners, and another to consumers who have yet to discover their "why" with your product. Tap into all available data to organize emails by audience segment. What kind of content does this particular demographic enjoy best? What tone and colors do they respond to?
3. Always test.
Even the most enticing messages will only be impactful if they are relevant and relatable to the customer who hears them. This is why testing your content and iterating your message according to the success of that testing is vital. After all, companies that A/B test their emails gain 37% more return. Test content within the email, test subject lines, test dayparting … everything you can test, test. Without testing, you won't know which of your actions are responsible for a successful campaign.
As third-party cookies are phased out — along with the many ingrained marketing practices that go along with them — businesses should tap into their first-party data potential. Gain more intimate and insightful perspectives on your customers, and help them engage more deeply with your content.

Do you want access to more strategies on getting the most from your first-party data? Contact CMG Local Solutions today to learn more.