Each year there's more competition in the dental sphere due to students completing their dentistry programs, dentists striking out on their own, and new branches of franchised practices opening up. Established practices that still rely on old marketing techniques, like word of mouth, are getting swept away by competitors.
If your practice has seen a dwindle in new clientele, it may be the result of a poor or limited digital marketing strategy for dentists. To survive the wave of competition, your office needs a new strategy. It's time to maximize your marketing dollars by going digital.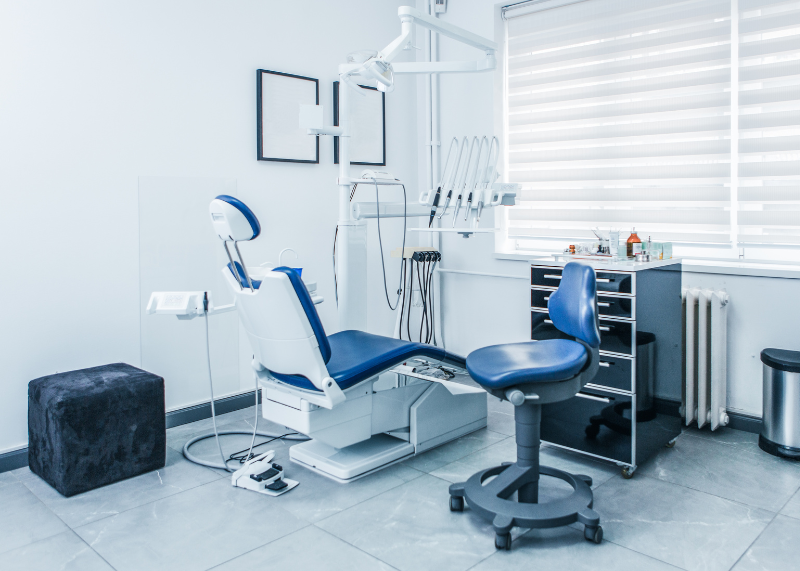 Method #1: Using Google Ads for Dentists
With Google being one of the world's largest and most influential companies, it's no surprise its advertisement platform generates a large amount of attention for the businesses that utilize it.
With over 8.5 billion Google searches in a single day, Google Ads is easily one of the most accessible digital marketing tools available.
Google Ads allows you to target your target customer by filtering out those you don't want through a series of steps, including keywords, ad extensions, AdRanks, bidding, and a display network. To better understand what this process looks like, we recommend becoming familiar with the following terms.
Ad extensions - Allows you to supplement your ad with additional information

AdRank - Determines your ad placement

Bidding - You select a maximum amount you're willing to pay for a click on your ad

Campaign type - Includes search, displays, video, shopping, app, smart, or performance max

Click-through rate - The number of clicks you get on your ad as a proportion of the number of impressions it gets

Conversion rate - A measure of form submissions as a proportion of total visits to your landing page

Display network - Displayed on either a search results page or web page

Impression - "Eyeballs" on the ad

Keywords - Words that are used in the queries you want to display your ad with

PPC - Also known as a pay-per-click or a type of ad that the advertiser pays per click on an ad

Quality score - Measures the quality of your ad by your click-through rate, relevance of keywords, quality of landing page, and past SERP performance
When using Google Ads for dentists, you can choose from multiple formats and features to ensure that your goals are being met. Google recommends trying a "Call" button with your ad to get more phone calls or using a video to showcase your practice directly and to make it more personal.
Google ads come with a wealth of advantages, including:
Targeting with keywords

Getting specific about your target audience

You only pay for results

You can measure your ads performance

You have the ability to advertise across many platforms
Keywords may include:
"Dentists near me."

"Reviews for dentists."

"Dentists that accept XYZ insurance."

Any other relevant term.
Keywords, in this case, should be selected based on relevant local SEOs for dentists. With Google Ads, a digital marketing strategy for dentists includes the ability to choose the age group you are trying to reach depending on the sites they visit and their areas of interest if the website or mobile app is part of the Google Display Network.
When it comes to only paying for results, it's simple. Google Ads works on a bidding system meaning that you decide how much you want to spend when someone interacts with your ad; this is based on what's best for your personal business. The marketing service offers users the ability to track your ad's effectiveness, allowing you to make changes to improve if needed, and works across multiple platforms - whether it be a computer, tablet, mobile phone, or app.
The final thing to keep in mind when using Google Ads for dentists is the three main factors that go into the effectiveness of an ad: the advertiser, the searcher, and the platform. As mentioned before, the advertiser bids on the keywords they want Google to flag regarding their ad for the SERPs (search engine results page). Then, based on the words a customer uses to conduct a search, your ad will show up, and they may or may not click on it.
Method #2: Facebook Ads for Dentists
As Facebook is the largest social media network, the options for reaching potential customers when using the site for marketing purposes are astronomical. Facebook has at least 1.56 billion users who spend around an hour on it daily.
Facebook uses what is referred to as Meta ads in their marketing campaigns to drive online sales, in-store business, and new customers. When considering using Facebook ads for dentists, you won't access just a single pool of users on Facebook. Instead, you'll be reaching an audience on Instagram, Messenger, and WhatsApp as well. When Facebook ads are done for you, they build lasting connections with customers through appearing on their Facebook
Feed, Instagram Reels, or in their Messenger inbox.
Facebook promotes its advertisement platform through five relevant objectives:
Increasing your sales

Generating qualified leads

Driving engagement

Sending more traffic

Building awareness
When using Facebook ads for dentists, online sales would be aimed toward driving appointment bookings on your website, which would go hand-in-hand with driving engagement. The service works to connect you with customers looking into what your business is offering based on lead ads, therefore sending more traffic to both your site on the phone or physical location. Each of these aspects comes together to form an increased awareness of your dental practice, keeping you at the top of their minds when they need your service.
This platform offers a cost-efficient digital marketing strategy for dentists, as you can start, stop, and pause your ad at any time. Additionally, Facebook ads recommend what kind of ad will be most beneficial to you based on your budget, offering price information upfront.
Similar to Google Ads, this platform allows you to narrow the parameters around the audience you'll reach to better locate the individuals most likely to click on the Facebook ads done for you.
You are able to adjust:
Interests

Gender

Location
When using this form of digital marketing, you are able to track in real-time how your ad is doing, using the data to improve it as best as possible. With Facebook ads, your advertisement competes against other ads honed in on the same audience in what's referred to as an auction. It's best to implement Meta's ad auction best practices and local SEOs for dentists to increase your chances of being clicked on.
Method #3: Email Marketing for Dentists
How often each day would you say you check your email? According to a study reported by Harvard Business Review, the average person spends 28% of their work day in their email. Now think about how many of those emails you're reading through are ads. But do you actually read them, or do you throw them into your trash automatically?
Considering how many emails end up directly in our trash, if choosing to use email marketing as your strategy for gaining new customers, you have to make sure you're using best practices.
Email marketing for dentists should be relatively easy, as your clients fill out forms when they first walk in that include giving their emails. Most often, this is used for appointment reminders and sending X-ray images if need be. Email marketing is also used to keep customers engaged in between visits, sending offers of products (in this case, expensive toothbrushes and braces) or services (a root canal, perhaps) that are on sale.
Best practices for email marketing revolve around the following:
Lead generation

Brand awareness

Building relationships

Customer engagement
Email marketing certainly has its fair share of advantages and disadvantages, especially for a niche as specific as marketing for dentists. Emails force a user to take action since it will either sit in their inbox unread with that dreaded unopened notification driving them crazy, or be read and deleted, or immediately deleted/archived.
Similar to the methods of Google Ads and Facebook ads, email marketing allows you to target your ideal demographic. You are able to test out which subject lines or call to actions best perform with customers by using an email marketing software that can also configure messages for you. Email marketing for dentists also offers a variety of message types to choose from.
Different formats include:
Welcome emails for new clients

Newsletter emails for changes in the office

Lead nurturing emails in search of new customers

Confirmation emails to confirm appointments

Dedicated emails for only a select portion of your email list (may be based on purchases or other criteria)

Invite emails if there is an upcoming event or new product happening

Promotional emails to generate interest in products you offer

Survey emails to gather client reviews and feedback

Season marketing emails during the holidays to stay on customer's minds
Overall, email marketing for dentists can be very useful if done with special attention and sent to the right crowds.
Recap: Taking Advantage of Digital Marketing Strategy and Local SEO for Dentists
Trying your hand at a new form of digital marketing might have a more beneficial outcome than you've ever expected. If you've noticed your new clientele list dwindling, a lack of response to ads you've sent out, and an overall disinterest in your dental office, it's time to contact CMG.
Our team has over 80 years of experience spearheading successful marketing campaigns, meaning we know our way around leading marketing methods like Google Ads, Facebook ads, and emails. When you work with our team, you'll also be spending significantly less than you would with an in-house PPC manager.
Whether you're looking into marketing for cosmetic dentists, an orthodontist, a pediatric dentist, or a root canal specialist, CMG can help you push into new markets, exceed your goals, and boost your bottom line.
Are you ready to change the game?