Jump in the fast lane and appeal to your target audience with CMG's affordable and advanced social media marketing for car dealerships.
Reach Car Buyers Near You With Less Effort
The outlook for the automotive industry is promising. The market is hotter than ever-but so is the competition. With more demand and more dealerships, those who know that social media is no longer optional and treat it as such will see their leads and profits skyrocket. Those who don't, however, will get left behind.
You have a decision to make: keep burning money on dated automotive marketing strategies or leverage social media and collect more conversions.
74% of consumers make purchasing decisions using social media. How many leads are you missing by not maximizing your social media strategy?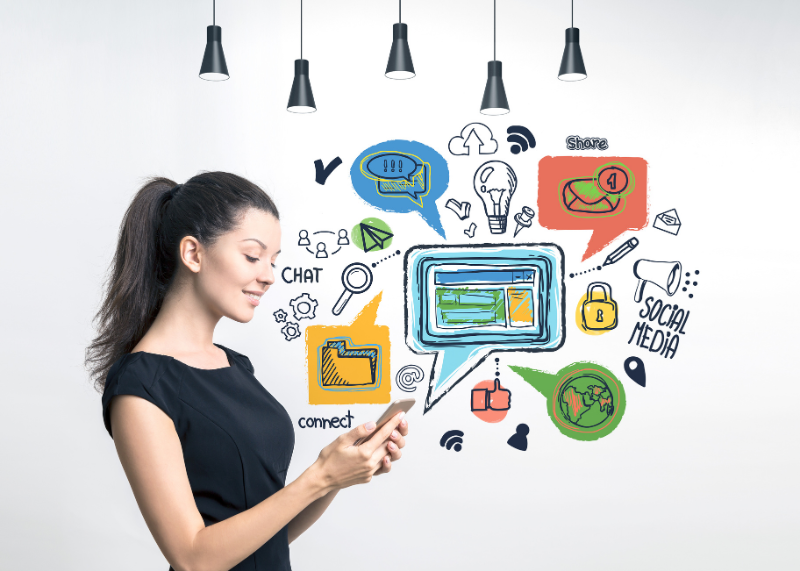 Does My Dealership Really Need a Social Media Strategy?
Today, car dealerships must contend with an automotive semiconductor shortage, new technology, and oversaturation. As the industry changes, so do marketing best practices. Gone are the days of local car dealerships coming up with a catchy little jingle and generating all their leads from TV ads and billboards. 90% of today's consumers go to search engines first when pursuing a product or a service in their area--this is even more true for significant purchases like a car. In 2023, the dealership that targets and retargets leads on social media is the car dealership that wins the sale. Any local dealership not taking its social media strategy seriously could be missing out on thousands of inbound leads.
Exclusive leads are a catalyst for growing your business —and a catalyst for producing consistent leads is to appear wherever potential car buyers can see your dealership and learn to trust it. Most driving-age adults are on social media; young adults, the elderly, and your target audience.
Now, when we say that you need a social media strategy, we don't mean you need to force your salespeople to dance to the latest TikTok trends (though a TikTok presence can help). Your social media strategy should be all about positioning and cultivating the growth tool every dealership wants: data.
The data collected from social media allows you to target advertisements based on demographics and psychographics. In short, this data enables us to put your ads right in front of your audience.
Social media ads can also be more affordable than search engine ads. Isn't it time you stopped stagnating and started growing with CMG's social media marketing for car dealerships?
What Could More Conversions Do for Your Dealership?
We don't have to brag; our results do that for us. Our expertise in automotive industry marketing makes an impact:
Over 1.5 billion automotive impressions earned

10,000+ automotive consumer conversions generated

360 thriving automotive clients and counting
You Can Count on Our Paid Social Media Marketing for Car Dealerships
A comprehensive social media strategy is crucial for any car dealership. It provides an effective platform to reach potential customers, build relationships, and increase leads and sales. By investing in a paid social media marketing campaign, car dealerships can maximize their presence on social media platforms like Facebook, Twitter, Instagram, and YouTube.
A paid social media strategy will help your dealership target your ideal customers more effectively than traditional advertising methods. Through targeted ads and campaigns tailored to specific interests or demographics, we ensure your message is reaching the right people at the right time. This type of data-driven approach allows you to put your money where it counts.
In addition, a paid social media strategy helps build brand awareness by increasing visibility across different platforms. When done with precision (like we do), this increased visibility will lead to more leads and conversions as people become familiar with your brand or product offerings. Moreover, it offers a cost-effective way of advertising as it allows you to set a budget for each channel without exceeding your total budget limit.
Paid social media strategies also allow car dealerships to track engagement metrics such as likes, shares, and comments. This data can then be used to improve future campaigns by understanding which types of content resonate with users most effectively and adjusting accordingly. This ensures that all future campaigns are geared towards achieving maximum ROI from each campaign launched on the platform.
We Understand Automotive
To leverage digital marketing for dealerships to its full potential, you need an experienced automotive marketing agency that can drive actual conversions. This is where CMG comes in.
We've been in the business long enough to know how to make your marketing dollars go further by getting your social media ads in front of people who are actually ready to buy a car. We're experts in what works: pay-per-click advertising campaigns that serve compelling content to your potential car buyers at the ideal moment in their decision process.
CMG Local Solutions isn't like other automotive marketing companies — we have solutions tailored to your specific needs. Let us handle the marketing so you can take care of more important things, like running your business. We're ready to help you stand out from the competition and make your auto marketing better than ever before.
Choose CMG for Social Media Marketing for Car Dealerships
Just like the auto industry, digital marketing is constantly evolving. With new platforms and technology emerging every day, it can be impossible for an untrained eye to know what's worth it and what's not.
You need an experienced agency to be your guru and guide you through the lucrative but sometimes confusing world of social media.
At CMG, we have been weathering ever-changing automotive marketing strategies before Facebook even entered Zuckerberg's brain. We know what platforms to utilize, how to optimize them, and how much money to pour into them to see the best ROI possible.
In short: we know the social media marketing automotive industry decision-makers need to succeed.
Choose excellence. Choose CMG. Schedule a consultation now.