With the right game plan, social media is a gold-tier opportunity for contractors to gain new customers and keep recurring customers engaged.
Can Contractors Benefit from Social Media Marketing?
Social media is home to many things: memes, cooking videos, feuds, and, most importantly, your customers. We know what you're thinking, does my contracting business really need to be on social media? The short answer is: yes.
In the US, an estimated 243.6 million people were active on social networks in 2018. Let's do some quick math: that's about 75% of the population—and it's safe to assume this number has only risen since then.
Among those 243+ million people are homeowners, business owners, project managers, facilities managers, and others interested in your services. To be blunt: your target audience is on social media; how many leads are you losing by not meeting them there?
While it may not seem like the most natural marketing fit, social media for contractors does work. Adding a Facebook, Instagram, or LinkedIn strategy to your inbound marketing arsenal can deliver qualified leads, grow your brand, and boost your bottom line.
In an oversaturated industry, it's the contracting business that gets its ad in front of the right people at the right time who wins. Deciding to leverage social media for construction contractors or any other contracting business doesn't mean you have to degrade yourself in whatever TikTok trend is popular that week. Launching a fruitful social media campaign takes research and the right marketing partner.
When you're ready to use your marketing dollars better, we're here to demystify social media marketing for contractors.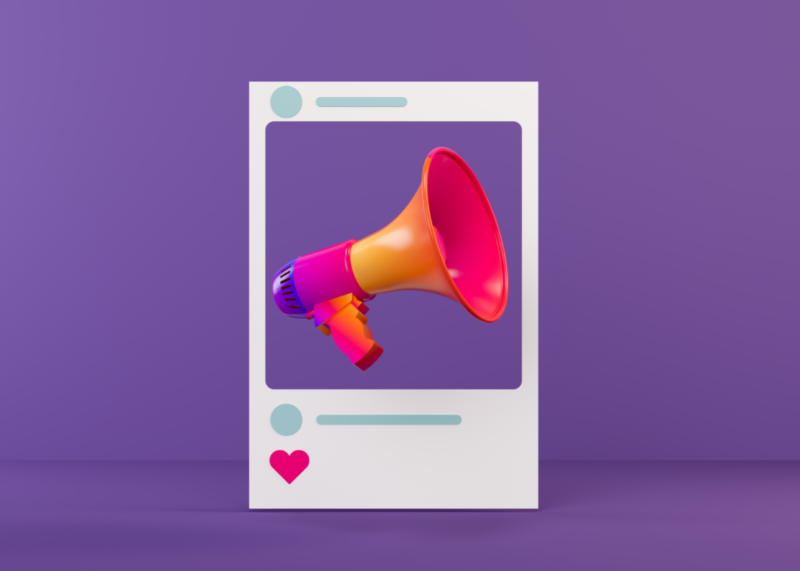 Why Social Media?
When it comes to social media marketing for contractors, many commercial businesses tend to shy away. Lots of business owners operate under the misconception that no one wants to see something like a construction project or a bathroom remodel on Facebook or Instagram. That may have been true during the dawn of social media, but the landscape is changing.
If you have a personal social media account, you've probably noticed you see fewer and fewer of your friends' posts and more advertisements for brands these days. While it can be frustrating to have to dig to see your friend's vacation update, on a business level, there has never been a more lucrative time to jump into the social media game.
Even if you're a B2B contractor, it's still people driving the decision to commission your services. You have to be where the people are or suffer the consequences of pouring your marketing dollars into ads that don't get eyes.
Social media for contractors really does work—but not like you think it does.
Being a contracting business on social media is a little bit different than being a celebrity on social media. When we say you need a Facebook or Instagram strategy, we don't mean you need to take a million selfies or film your morning routine. Instead, you should use the platforms to increase your credibility, show your best work, update recurring customers on availability, and boost your visibility.
When you're not on social media, you're also missing out on the growth tool everybody wants: data. CMG can leverage data collected from social media for construction contractors, social media for HVAC contractors, and more to create geo-targeted advertisements based on demographics and psychographics. What's better? Social media ads can come across as more authentic to your audience than search engine ads.
You Need a Digital Marketing Partner
Social media marketing is constantly changing. With new platforms and trends emerging overnight, it can be impossible for an untrained eye to know what to invest in for the best return.
Creating a successful social media strategy for contractors takes tact, time, and effort. And, as every business owner knows, time is your most precious commodity.
You're busy running a successful business; you don't have time to ideate and execute a top-level social media marketing scheme alone. That's where CMG comes in. When it comes to social media for plumbers, construction businesses, and more, we have been in the game since FaceBook was charging only 12 cents an ad.
Our social media advertising campaigns take businesses from stagnant to flourishing--and we have the track record to prove it. We offer our social media marketing services to industry giants and small local companies alike. Though no contracting business or social media strategy is the same, we strive to ensure our results (increased leads and more money in your pocket) are.
Choose CMG
Informed social media management is crucial to your business finding more leads, getting better conversions, and driving more sales. Whether your company is stuck in 2013 relying on organic traffic or is trying to reconfigure a stagnant social media strategy, CMG can help you grow.
When you decide it's time to make the most of your marketing dollars, you can't trust just anyone. Smart business owners choose CMG. Why? Hiring our expert team costs way less than hiring an in-house social media manager, and we maximize your return. By working with a team who specializes in marketing for contractors, you cut costs on head-hunting and screw-ups while augmenting your ROI.
Before you sign the bottom line, we'll leave you with some fast facts:
80+ years of combined local support and expertise

100+ digital experts monitoring your campaigns

1,000+ thriving clients
Are You Ready to Grow?
CMG takes the confusing and stressful task of social media marketing off your shoulders, so you place your focus where it matters most: running a top-tier contracting business. Don't waste any more time sweating over the nuances of social media marketing for contractors; CMG is ready to do the heavy lifting for you.